Friends Of Armstrong Trails
How do I volunteer?
Volunteers are an integral part of all trails organizations and will be needed to assist Armstrong Trails with trail projects, fundraising, events, and maintenance. There continues to be many ways to volunteer including helping with work days & serving on committees.  Simply use the Contact Us form or contact anyone involved with Armstrong Trails to volunteer.
EVERY DAY IS A WORKDAY-While we do try and schedule organized workdays, you really don't need to wait.  Have some time and want to spend the day with us on a really awesome project…contact us a day or two prior and I can let you know where we are working.  Many hands make light work.  Use the Contact Us form or call 724-822-7176.
Volunteers are the common thread in the success of these projects (and there is a lot, we had a very busy year and another to come).  We all should be thankful to the volunteers who selfishly gave of their time to help with these projects.   They should be proud…their time will benefit many now and for decades to come.   Volunteers truly make a difference.  I just read an article today, the value attached to each hour a volunteer helps is $25.43.  For every hour a volunteer helps we earn $25.43 in volunteer time match.  An 8-hour day with 10 volunteers equates to just over $2,034.  And if the same 10 people volunteer one day a month for a year gives us over $24,400 in matching funds.  As I said, volunteers are a valuable asset for maintaining and moving trail systems forward.
An example of funding for specific projects…grants are great but it is not all free money.  Most grants require matching funds.  Some grant matches are all cash, some are time and cash.
I will use an easy example: say we would like to rehabilitate a bridge, total cost for the rehab is $100,000.  Of that $100,000, $50,000 needs to be match funds and in scenario 1- let's say it is all cash…so we need to raise $50,000 either through a Friends of campaign or a fundraiser.  In scenario 2-it is $25,000 cash and $25,000 worth of volunteer services, in-kind professional services and/or in-kind donations.  Nonetheless, you at the very least still need $25,000 in cash.  AND all of your cash needs to be secured…like the money is in the bank…secured.  At first $25,000 of volunteer services sounds extraordinary.  It really isn't.  For example, if 25 people volunteer 40 hours of their time to the project at the rate of $25.43, the volunteer service match is satisfied.
A Friends of campaign is active right now, donations are tax deductible and may be sent to Armstrong Trails, PO Box 777, Kittanning, PA 16201 or via Paypal on our website. Click the button below to download the form.
Armstrong Trails is currently has about 34 miles of Trail to maintain. To increase responsible use and enjoyment, we need people to pick up litter, remove debris, help be the eyes and ears of the trail, and help us maintain the trail. Maintenance only needs to be done a few times each year, and it makes a great neighborhood or community project. Please consider adopting a section of Trail near your home or adopt a section that you most enjoy!
Things to do on your adopted mile:
Pick up trash and remove debris on the treadway. As you walk or ride your section, occasionally bring along a bag to collect paper, cans, and other litter along the Trail
Prior to mowing times please check the area 6 to 8 feet on either side of the Trail's treadway for stones, branches, roots, trash, or anything else that would damage a mower while trimming the edge.
Report problems, debris, abuses, encroachments, and obstacles that require larger tools to Armstrong Trails 724 822-7176. This includes trees down, large logs at the edge of the trail, rock slides, holes, bumps in the trail, blocked drains,etc. Use Mile Markers as a reference to problem along the trail.
If possible, following storms, check your mile and report any problems, trees down, blocked drains, etc, to Armstrong Trails 724 822-7176.
When the Trail is well-maintained, those enjoying the Trail are more likely to use it with respect and responsibility.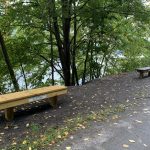 Honor a loved one with a memorial bench for a donation of $250.  The bench will be placed along the trail where it will be seen and enjoyed by trail users for years to come. Armstrong Trails will make every effort to place your memorial bench in the location of your choice. Currently we have several locations where benches are needed.
Honor a loved one with a memorial picnic table for a donation of $2500.00. The covered picnic table will be placed along the trail where it will be seen and enjoyed by trail users for years to come.
Monetary donations in any amount are always welcome and will be used to support the Armstrong Trails mission and Armstrong Trails.  If you would like your donation to support a specific project please indicate this when making a donation. Donations can be sent to: Armstrong Trails, PO Box 777, Kittanning, PA 16201
Projects like these are just as important to the trail as keeping the surface in nice shape and pruning trees and such.  For some, it may be why you come to use the trail.  Over the past year, we have seen more folks interested in the history along the trail and preservation projects we are working on.  The amenities and historic preservation projects are possible because of our "Friends".  Become a "Friend".
Donations are also accepted online via PayPal. Follow the prompts below to make a donation using your PayPal account or a credit / debit card.
Trail Shirts and Bumper Stickers
Want to show your support for Armstrong Trails? Then buy a t-shirt and wear it with pride. Two styles available in gold. Both sport the official Armstrong Trails logo shown to the left. Bumper stickers are also available. Download the form below and show your support.
Next Level T-Shirt 
DETAILS:
Fabric: Fine jersey
100% Combed Ring-Spun Cotton and 90/10 grams/4.3 oz
Neck: CREW NECK
Binding: Set-in Collar 1×1 Baby Rib. Side Seamed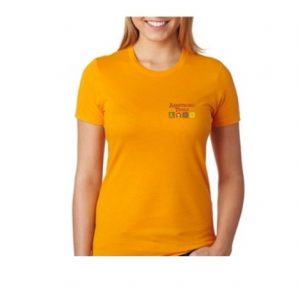 Badger Tech T-Shirt
DETAILS:
4.1 oz., 94/6 Polyester/spandex
Moisture managment/antimicrobial performance fabric
Soft cotton-like feel for comfort
Badger sport shoulder for maximum movement
Self-fabric collar, double-needle hem
When you're ready to check out, click View Cart to begin!